BIOGRAPHY THOMAS STOCKERT
 1978 he took part in hatha yoga classes for the first time. Start with macrobiotic cuisine. During this time he began to lead a healthy life and eat accordingly.
 1980 he made his first trip to India and visited various ashrams there. Here his spiritual path began. Since then he has got to know many different meditation methods. Since then he has been practicing Siddha Yoga and Vipassana.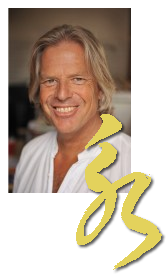 From 1984 to 1986 he completed his Shiatsu training in Wiesbaden with a diploma. Attending seminars with Watru Ohashi and S. Yamamoto.
In 1987 he learned Sotai, a method to correct the structure of the body
From 1989 to 1991 he did his naturopath training in Munich.
1991-1992 he completed a Qi Gong teacher training with the master Zhi-Chang Li. For a year he worked in a psychiatric clinic and cared for mentally disturbed people. He cooked people suffering from cancer with macrobiotic cuisine and gave them a new perspective on life.
From 1988 to 1994 he ran a "Center for Eastern Healing Methods" in Munich, where he taught Shiatsu, Sotai and Qi-Gong. He imparted his specialist knowledge of macrobiotic cuisine in cooking classes. At the same time, of course, he also offered his therapeutic work there. During this time he mainly taught Shiatsu, Sotai and Qi-Gong in various cities in Germany and Switzerland. He wrote many articles about his work for various magazines (esoteric or alternative medicine).
Since 1994 he has lived on his chosen island of Lanzarote and offers his therapeutic work there. He has also completed training in Craneo Sacral Therapy and Trigger Point.
From 2005 to 2013 he worked as a freelance therapist at Club La Santa with top athletes from all over the world. Here he mainly worked with sports massages.
Since 2022 Cooperation partner with German therapy broker curae.me (billable with German health insurance company)
Jacinto Benavente 5
E-35507 Tahiche
(0034) 659974480
© 2021 © Copyright Lanzarote-Massages.com 2021 // Web Design by GEEK OWL Digital Marketing – Web Design on Lanzarote